Regular price
Sale price
$19.97
Unit price
per
Sale
Sold out
Serene Photos Set 1: Seasons makes your relief from stress, anxiety and feelings of low mood become reality via restorative, peace-inducing images.  It consists of 10 high quality, deeply comforting photos, plus 1 bonus photo (for a total of 11 photos), all taken by Founder Carl Bartlett, Jr., in which the beauty of the four seasons is depicted.

Seasons is a metaphor to reflect the different seasons that one experiences in life and overcoming adversity, always with brighter days on the horizon.  Each photo evokes tranquility, giving you deep ease from daily stressors into a much more relaxed, resilient, and uplifted version of you!
What you'll get: 11 photos
Format: JPEG digital downloads via a ZIP file

Share
Descriptions and Dimensions of Each Photo

Photo 1 - Serene, sunlit, curved path between colorful green and red trees (Dimensions: 4032 x 3024)

Photo 2 - Enchanting forest. Tall, vibrant trees with deep brown bark and rich green leaves as sun glistens through (Dimensions: 4032 x 3024)

Photo 3 - Diamond sun shines majestic rays on trees below (Dimensions: 1080 x 810)

Photo 4 - Tranquil space among green trees and grass, with light blue sky and sun shining, casting relaxing shadows (Dimensions: 3840 x 2880)

Photo 5 - Peaceful beach, gorgeous and sunny. Calming sand and endless pristine blue ocean with small waves. Soothing ripples of water come ashore (Dimensions: 1920 x 1440)

Photo 6 - Meadow with lush green trees as a vibrant, full, round sun beams light on them from directly overhead. Perfect blue sky (Dimensions: 3840 x 2880)

Photo 7 - Autumn! Mesmerizing golden and green leaves decorate trees, as far as the eyes can see, with an easy sunlight (Dimensions: 1079 x 721)

Photo 8 - Alluring sunset among calming clouds (Dimensions: 4032 x 3024)

Photo 9 - Pristine white snow creates beautifully charming snow capped shrubs. Background full of fluffy snow as snow flakes float gently in the air (Dimensions: 4032 x 3024)

Photo 10 - Ethereal ascending sunlit clouds illuminate a pathway through darker clouds high in the sky. Graceful stairway of clouds (Dimensions: 1080 x 525)

Photo 11 (Bonus Photo) - From saxophone, to you, with love! (Dimensions: 1080 x 810)
View full details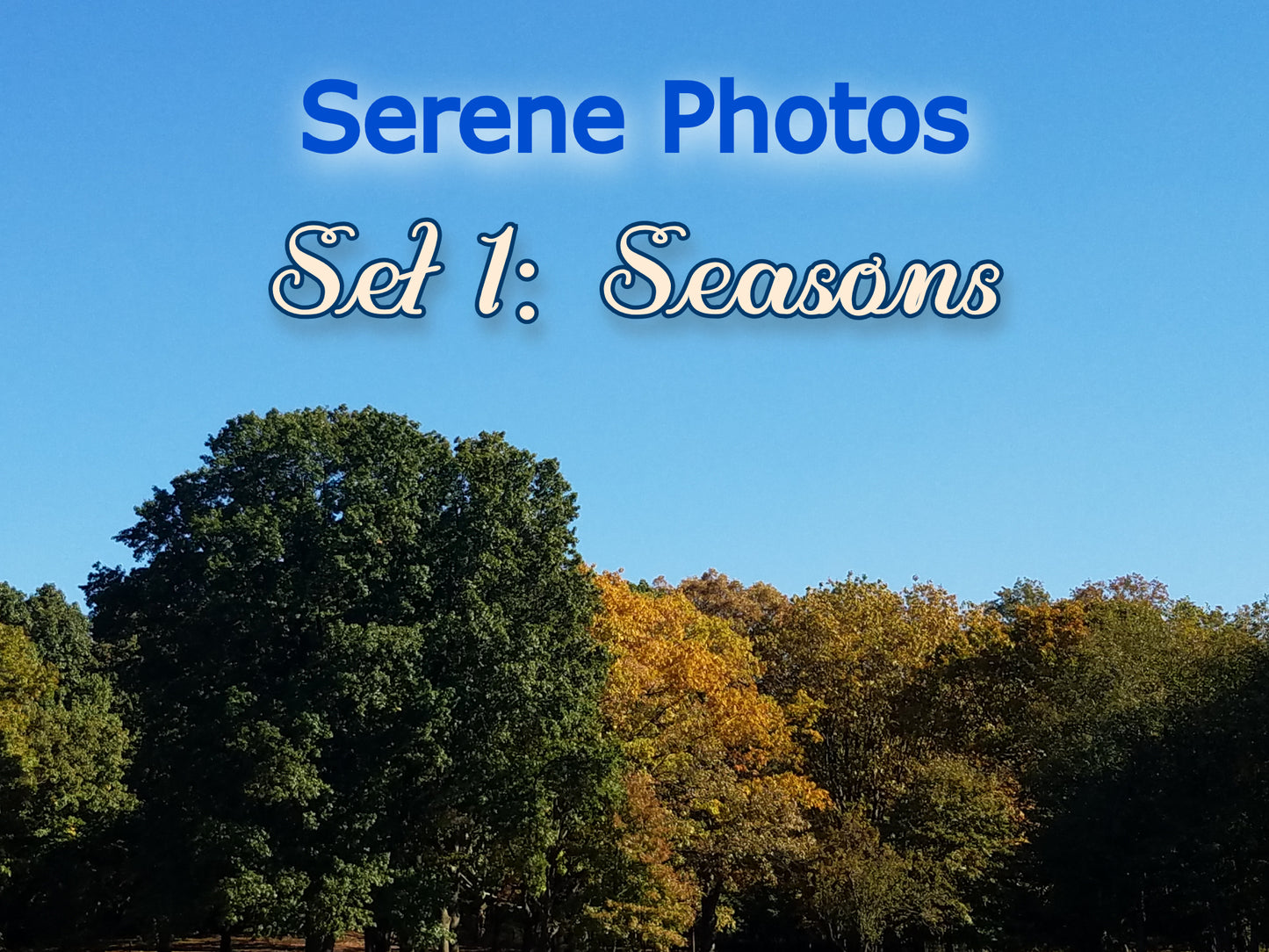 2 Reviews
Jeannette H.

The words that come to mind are calm, tranquil, and peaceful when I see serene imagery. It opens my mind to clarity and creativity. I will speak about some of my favorites. Trees – I imagine a cool breath coming through the summer's rustling leaves. It brings beautiful peace of mind and creativity. Sunset – It brings me relaxation, contemplation, and spiritual feelings. Calming waters – I see ocean waves; it is refreshing, soothing, and calming. It is my favorite stress releaser. By viewing these images, you know how being surrounded by nature brings healing. Thanks to Carl Jr.

Shirley H.

I enjoy the serene imagery. It is one of the most fantastic ways to relieve stress. I love the ocean water. I feel like I am floating, which is so relaxing and calming. I hear the wind blowing through the trees and get an awaking feeling. I sense tranquility, calmness, and warmth upon seeing the sunset imagery. The roses represent love, earth beauty, warmth, and peace of mind. Lots of love and nature healing. Thank You, Carl Jr.